Co-Hosting Mom's Library Link-Up
(#7 for Me)
Welcome Back to Mom's Library!
Filled with parenting tips, activities for young children, devotionals, crafts, recipes, and more!
Check back again and again to see the new posts!

If you are linking up please be kind and follow my blog
Hey Mommy, Chocolate Milk.
If you enjoy the Link-up you might consider liking us on Facebook as well, click here!
Visit my fellow librarians, True Aim Education and Chicken Babies, for more features like
foam dart physics package and
lolly pop bouquet!
Thank you to everyone who shared last week and I hope you will join us and share again!!
If you are featured here, please feel free to grab a featured button to display proudly on your blog or post.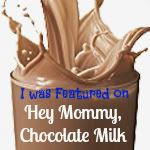 Please visit at least two other posts and leave a comment. We all enjoy encouraging words once in awhile, so make someone's day and spread some cheer!
Thanks for stopping by again this week. C-Ya next Wednesday!