Mom's Library Link-Up
Here you will find parenting tips, activities for young children, devotionals, crafts, recipes, and much, much more!
Hey Mommy, Chocolate Milk.
If you enjoy the Link-up you might consider liking us on Facebook as well, click here!
Visit my fellow librarians, True Aim Education and Chicken Babies for more features like
Why do we feel so S.A.D. and Cloud in a Bottle.
Also, help us welcome a new addition to our Library: Life with Moore Babies! Pop over and say Hello!
Thank you to everyone who shared last week and I hope you will join us and share again!!
If you are featured here, please feel free to grab a featured button to display proudly on your blog or post.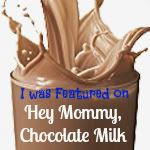 My features this week:
1. Holiday Science Round-Up by Learning and Growing the Piwi Way
2. Memory Ornament at All Our Days
3. Space Theme by Stay at Home Educator
4. Cell Unit Study at Highhill Homeschool
5. Mini Cake Stands by Hoopla Palooza
6. Books for Cooks at Create with Joy
Don't forget to head over to
True Aim for more details about this
Twitter Party and Giveaway.